Stressed Out Entertainment Artists - Past and Present
Mr Mav - Executive Producer,Producer,Singer,Songwriter
Mr Producer And Ceo Mav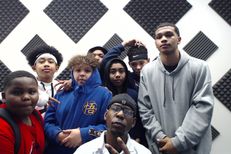 Mr. MAV Was born on the Eastcoast in Philly and Westcoast raised in Southern Cali, Mr MAV developed his passion for music of all forms early on in his life. Getting in trouble for scratchin up his dads oldies records and messing with the tape player sprouted his love for a developing art form and culture. During the summers in Philly he was mesmerized by the sights of DJ Jazzy Jeff and the Fresh Princes Block Parties, amazed at how the people gathered around in awe. His growing love for music led him to playing the sax in junior high, while still honing his growing skills and dreams at home in his spare time. At age 19, while walking down the street one day, he found a manila envelope that looked very important although it was not addressed to him temptation and curiosity compelled him to open it. What he found was an investment contract, pages upon pages, for a new record label. He read it thoroughly from front to back and decided then, at 19 years old, that owning a record label and making music was his calling. After getting out of high school, the death of a close friend prompted Mav to get away from the madness. He joined the US Navy on the buddy system and ventured to see what life would bring. While stationed at Whidbey Island, Wa. he started really pursing perfection in his production. Mav and his friends would make tapes and beats by pause mixin and scratchin over it, basically just using anything available to make something that sounded cool.                     
After 2 years of living back down in Cali and drinkin too much King Cobra, he returned to the Northwest to enroll at the Art Institute of Seattle for a Music Business Degree. The education was cool (top of class in audio) but the contacts and friends he developed helped the most. Aside from school, he sang lead in the bands Canabyss and Cornbread. Mav and Canabyss enjoyed measurable success, including playing at the first and second Hempfest's among many other venues. In 1994 he collected all his resources and really began to get serious about producing and running his own label. He bought all the equipment he needed and could get his hands on, including the MPC3000. While nailin down the production end of things, the search began for talented artists for a future label. Already on his way to greatness, Mr MAV started Paradine Records/Stressed Out Ent in 1999 with big ideas and even bigger dreams. Since its inception, Stressed Out has created considerable waves in the industry, spreading its message all the way to Asia and South Africa, as well as solidifying its reputation in the Northwest. Mavs real asset is his ability to play both roles of businessman and Producer. He's got the uncanny ability to make everyone around him better and to elevate them to a higher level. 
Baby Girl Oksana - Recording Artist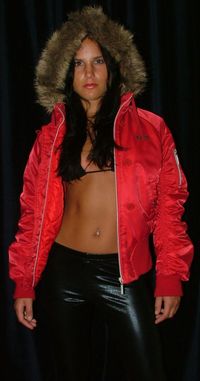 Baby Girl Oksana speaks Russian and Ukrainian. Oksana was born in Ukraine and moved to the United States when she was 3 years old. Her family settled down in Washington State where Oksana began to get her musical aspirations. Even as a little girl, Oksana always knew that music was her thing and that she loved to sing. Oksana persued her love for music by writing at a young age and won several awards for her poetry. Oksana also sang in school choirs and church. Her dreams became reality when Oksana met music producer, Mr Mav in 2006 Producer of Baby C, Sublymm, Satin Monstah Summer Jam , 2-0-Sickness Albulation, Jenny Jones Show,Billboard Talent Net. While visiting Mr Mav's studio, a conversation came up about music and her writing. Oksana presented Mav with samples of her written poems and from that day on the two began developing the artist Baby Girl Oksana.
Manch Melevolent (AKA) Metasin - MC,Singer,Songwriter

Manch Melevolent  Being the offspring of a college speech major and becoming literate at age four, I developed a strong appreciation for the written and spoken word at an age when most children we're still watching PBS. So when hip-hop broke onto the scene in '79 it was only natural that I memorizeRappers Delight word for word. Since that time hip-hop has remained embedded firmly in my psyche. It wasn't until 1989, though, when I heard KRS-One's "You Must Learn" that I decided that rapping was my calling. Myself and my homeboy Dave C performed a generic rap in front of an audience of about 300, using a basic beat he programmed on a Commodore 64(remember those!) and lyrics that were written by me. The crowd loved it and started clapping to the beat. Since that time I've been down with many crews and DJ's, but until finding Lonnie Perrin and Paradine records, had kept running into dead end.
Now a full decade later, with the world of hip-hop expanding and dividing into so many sub-sections, where do I fit in? Gangsta? No. Commercial? No. Hip-pop? Hell no! First and foremost, I'm an artist. I want to lead hip-hop into its next golden age. I want to take it back to true MCing. I want niggaz to drop lyrics with insight and thought provoking material(but keep the party poppin' too). I want to inspire another young nigga to start in this game,just like KRS did for me. I want to be known, not for having the most ice or bitches but the tightest flow. When this whole thing began, it wasn't viewed as a money making mechanism. It was pure black thought, pure black expression. I want to bring it back around to that, niggaz need to stop spreading folklore and fantasies on wax.

Blymm I started off as a poor black child, in one of Seattle's roughest neighborhoods. Where I grew up (Da Kenyon's) made me the type of writer I am now. I was buying cigarettes for my Mom up until I turned 10. Then rap was pure, just battles and people clowning, back then it was all about N.W.A., Too Short, and Rakim. The 1st live battle I ever had seen was between one of my older partners & some other cat who wasn't from the Hood. My partner got ate up, pissed off & smoked O-boy. I was either 8 or 9, but since that day I swore to myself no battles. I started rapping when I was in 8th grade. I jumped off the bus from school & all of the sudden my boys start bustin' freestyles. I just marveled, then they were asking me to start bustin. I said some sorry shit, trying my best to sound like Treach from Naughty by Nature. As a student I felt like I was one of the most intellectual pupils ever to go to school. In 3rd grade at Highland Park Elementary, I won the Seymore Kaplan Award (Most outstanding Student.) In 6th grade held down a nice 4.0 gpa, in 7th & 8th. I made the Asa Mercer math Olympiad team (Olympics 4 math between Seattle Middle Schools.) On March 20, 1992 I said to myself "Seattle I'll be back", I maved to Moses Lake. In a way Gad had sent me out there so my Grand mother wouldn't have died wishing to see her grandchildren. (Believe me there's allot more that I'm allowing you to know!) Man, me & my boys out there, in less than a year changed that towns whole flavor. My love for learning lost its luster, grades were slipping & then I was introduced to marijuana! I was still killing Math though up until Geometry.
I was at a party & freestyles started, ( I know in lil' ass Moses Lake,) I immediately started representing Kenyon St. Seattle style. I met this Blood named Trece Capone, he fucking molded me. He was raw, honestly, he's one of the few that I am scared to freestyle with. From my perspective, then, I was GAR-BAGE. My point of view was that of immaturity. What really got me going, was when my little brother came home from school & through a rhyme in my face. I said "what" I almost instantaneously started on my first song. Out in Moses i had a little reputation (Have you heard Arien flow?) People would just come up to me "I heard you can flow", I wouldn't respond sometimes, It just came outr naturally for some reason. I met Carl in June of '94 we instantly clicked. Me & him were writing songs together before "In the Cut" (By the way that verse I wrote is garbage compared to my other shit) I feel & know Carl and I can put down anytime. At first I was A-Wax, because I looked hellah like MC Eiht in Menace to Society, then this one bitch fucked on my braids so I was calling myself Mr. Cobra. Oddly I came up with Sublymminal (Sublymm for short) when I wrote this one verse when I was gone off acid. (Very 1st time doin' that shit.) The hidden Message it made sense right off the bat. Lets get to the name & some ideas behind it (Basically, no more candy coated Bullshit.) First off the Hidden Message (Sublymminal) my face I want to hide which my lyrics the message. i'm banking on the fact that peoples curiosity will run wild & when its time for a show people will show up to see what the hell Sublymm looks like. My best song is Speculation (Return of the Gemini is like my 11th or 12th best.) I already have songs that co-exist I.E. : DA Riddler & Da Riddlers Fable, Da hidden message & mystery of Sublymminal. Im sublymm a.k.a. Da Riddler, because I write brain teasing poetry. I write real shit, personal experiences, different world perspectives and every once in a while a deep blue yander G, willy wonker out of no where type of song. Before i finished this  little bio, I finished one of my songs. (Resin' on the bottom of page 3 is proof.) So basicly saying "I'm ready 2 make or shake like Siran Stacy." (Ask about that line after youv'e finished reading this.)  its time to take this shit to the next level  and on that note I won't even dare to leave my name!